Business Terms – Delivery & Payment
Payment
You have several opportunites when buying on our webshop: you may use your credit Ccard, e.g. VISA, MasterCard, Maestro, Paypal and the like.
Our payment system is fully secured by SSL (Secure Sockets Layer), thus ensuring you complete personal data encryption.
This encryption results in the fact that nobody will be able to see or use your credit card identification numbers, bank account number etc. Furthermore, we are fully secured and approved by NETS (please see www.nets.com for furhter information in this regards.)
Therefore, you will be secured when ordering in out webshop. Align Footwear will never be able to achieve your personal data and bank information as the amount will be redrawn from your bank account by Means of a transaction number. The amount due will be registrered on your account as soon as we have shipped your order.
Delivery
When it comes to pain, there's no time to wait. Align Footwear strives to process orders as quickly as possible. Once you place your order, it will be shipped out the following business day. Any delay in the shipping process will be posted to our website.
Typically shipping is 3-5 business days. We send with tracking numbers and ship via DHL from Ikast, Denmark.
You will allways be subject to our 60 Days Refund Policy, meaning thant if you wish to return the Align Footwear insoles, the Align Footwear insoles have to be forwarded to Align Footwear, Siriusvej 1, 7430 Ikast, Denmark, within 60 days of your receipt of the insoles. The Align Footwear insoles have to be returned in original packaging. Please include a copy of your order confirmation as well as stating your bank account and registration number. The costs assiged to the return of the Align Footwear insoles will be for you to cover.
Return and complaints goods must be forwarded to:
Align Footwear
Siriusvej 1
7430 Ikast
Denmark
Do you have any questions – and you do not find your answers on our page FAQ, please do not hesitate to contact us by mail: : contact@alignfootwear.uk or by telephone +45 22 633 933 between 9.00-11.00 a.m.(London time) on business days.
We are subject to availability, price changes and printing errors.
All prices on Align Footwear are in GBP (British pounds) and inclusive VAT.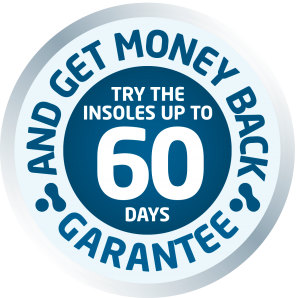 60 Days Return Policy
Full satisfaction or get your money back